Joined

Aug 7, 2009
Messages

5,777
Reaction score

11,448
Location
I think Sander Berge has done ok so far, not poor, but not great either. I think most appreciate that it will take time to adapt to
a new country
a new league
new teammates
new playing style
new role
And it's going to take time for said teammates to adapt to him as well. Lundstram, they know all about. How he moves, what he's good at. When he wants the ball. What he does with it. The formation change last summer opened up an ideal spot for him and he's done very well. The teammates are still not sure how to integrate him in our playing style. The neat combination play down each side requires great relationship and understanding between players, and it's not there yet when Berge plays.
A few fans are questioning him already. A £20m+ international with Champions League experience, shouldn't we expect more? I'm sure we'll get more, but it may take a bit longer than we and Wilder hoped.
One thing I really like about Berge is his runs on the ball. With a bit of space he can really drive at the opposition and glide past opponents. People may not be aware that he is really fast, and he's got the skill to beat a man. I'd like his teammates to look for such opportunities. If he's unmarked and in some space, give him the ball and see what he can do with it.
Let's have some patience - with him, but also with his teammates who are still not sure whereabouts he is and when to look for him. Some examples, all from the first 25 minutes vs Brighton:
* Sharp shooting, rather than squaring it to Berge in the box: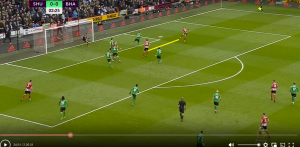 * Sharp nodding the ball back to McBurnie, not to Berge who's got acres of space: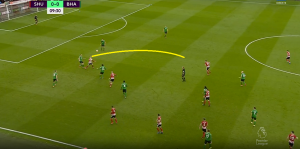 * McBurnie passing back to Fleck/Norwood, rather than Berge, again with space in front of him:
* Norwood going to the left, rather than to Berge on the right:
* O'Connell passing backwards, rather than aiming for the unmarked Berge (who made a gesture that he wanted the ball):
* Fleck who turned into his man (though luckily got past him), rather than giving it to Berge:
* Egan passing back to Hendo, rather than finding the unmarked Berge with their midfield awol:
* Sharp chipping it to their centre backs (think he aimed for McBurnie) rahter than passing low to Berge:
* Basham passing out to Baldock, rather than threading it through to Berge:
I'm not saying all of these were easy passes to make, maybe not all were right either. But I think they show that Berge did take up some good positions, did make some good runs and he could have been used more.