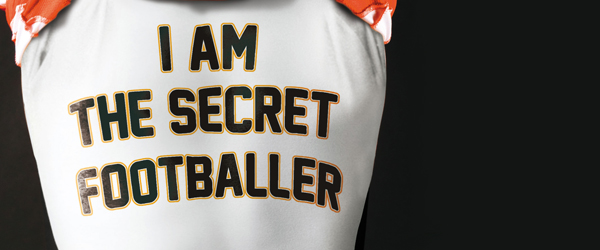 The Secret Footballer is one of the most-read and most-discussed Guardian columnists, giving a searingly honest and authentic account of the life of a professional footballer.
Attracting over 200,000 avidly reading fans of the column, his fearless, opinionated, kick and tell account covers everything from tactical analysis, dressing room gossip, spats with disliked opponents and an inside perspective on the joys and frustrations of someone playing the game professionally.
Since the column began in January 2011, his identity has been widely discussed, with websites dedicated purely to the attempted uncovering of the man behind the stories.
It's even been suggested he's a player currently on the books of Sheffield United! Discussion is currently ongoing on the forum as regards that one.
In reality, his identity is closely guarded (and often red herrings are inserted to throw off the scent), according to the publishers only three people in Britain actually know who he really is. He's now penned a book billed as "Lifting the Lid on the Beautiful Game", which is now available to purchase having been released by Guardian Books.
They stopped short of sending the Milk Tray man, but we've taken delivery of the recently released paperback and have a copy to give away to a lucky reader/user of S24SU.com!
How To Enter
We're making it easy, but we do want a tiny bit of effort on your part!
Simply tell us your answer to the following question (via one of the methods listed below):
Q – Which professional footballer, past or present, you would most like to hear the inside story of and why?
It doesn't have to be an essay and there is obviously no right or wrong answer, just let us know via one of the following methods:
Email – Email your answer to win@s24su.com with your full name, forum username (if applicable) and contact number.
Twitter – Tweet us with your answer, for example "@s24su I'd like the inside story on xxx, because xxx". If you are a winner we'll contact you via Direct Message, so make sure you are following us or we'll not be able to! – http://twitter.com/s24su
Private Message – Private message me (Foxy) on the forum, including your answer, your full name and contact number.
Entries will be accepted until midnight on Tuesday 18th September 2012 (the night of the visit of Doncaster Rovers) and winners will be notified by midday on the following day.
Individuals may enter once per method of entry (so feel free to send us both an email and tweet for example), but multiple entries from the same method of entry will be disqualified.
Winning entries will be contacted via the method they used to enter the competition.
Terms & Conditions
1. The 'prize' is a paperback copy of "I Am The Secret Footballer: Lifting the Lid on the Beautiful Game".
2. There is no cash alternative.
3. Entry to the competitions is restricted to one entry per method of entry per person.
4. Multiple entries via the same entry method will be disqualified.
5. Automated entries, bulk entries or third party entries will be disqualified.
6. Winners will be chosen at random from all valid entries.
7. Winners will be contacted via their chosen method of entry at or before midday on Wednesday 19th September 2012.
8. The judges' decision is final and no correspondence will be entered in to.
9. S24SU.com is compliant with the Data Protection Act. Our policy is such that we will not pass on your details to any third party without your prior consent.