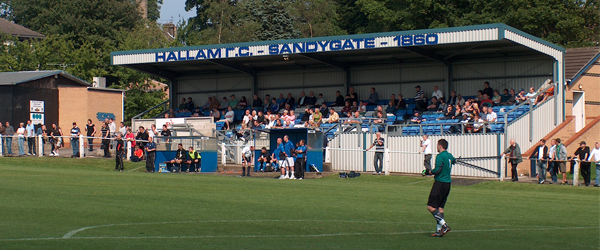 48 hours after sampling the delights of Rotherham United's recently opened New York Stadium, the Blades send an XI up to the familiar surroundings of Hallam FC's Sandygate Road Ground, the oldest ground in the world.
Originally scheduled for the same night as the Blades visit to Rotherham, this fixture was moved and allows Blades fans the opportunity to take in both fixtures.
The Countrymen will be hoping for a positive performance to carry them into their first game of the season just 24 hours later at AFC Emley.
Hallam are fresh from a 5-2 victory over Harborough Town on Saturday and in other notable pre-season fixtures have drawn 2-2 with a Sheffield Wednesday XI and were narrowly beaten by a young Manchester City side in recent weeks.
As always, we'll be updating from the match on via Twitter, so if you aren't already, then follow us via: http://twitter.com/s24su for coverage.
About the Ground
Sandygate Road will be a familiar site to many Blades and is a very short journey for many, located opposite the Plough Inn at Crosspool.
Lying 800 feet above sea level, Sandygate Road is officially the oldest football ground in the World and home of Hallam FC since 1860, making them the second oldest football club in the World to Sheffield FC.
The ground made the silver screen in 1996, when our mate Jimmy Muir (Sean Bean) had a kick around, being scouted by Tony Currie for the film When Saturday Comes.
Refurbishments and improvements to the clubhouse are ongoing, but other than those, the sloping pitch and it's surroundings will have a familiar look to those having visited in previous years.
With an official capacity of around 700, the main stand has seating for around 250, a small covered terrace and space for standing beside the pitch should attendance dictate.
Getting there
At around 3 miles by car from Bramall Lane, this one isn't going to cause any concern for local Blades.
There's parking on the streets nearby and public transport from the city centre in the form of buses.
Official Website: http://www.hallamfc.co.uk
Contact Details:
Hallam FC
Sandygate Road
Sheffield
S10 5SE
Phone: 0114 230 9484
Email: theclub@hallamfc.co.uk