The end of the 2013/14 season has had a strange sense of euphoria and excitement around it for Sheffield United fans. Strange in so much as this was our lowest league finish for around two generations, yet due to the massive turnaround in form – from relegation certainties on the 1st of February to a 7th place finish in League One (the third tier of English football) – this was rightly seen as a fantastic achievement, a potential turning point in our great club's fortunes.
The reasons for optimism of course were not just down to the uplift in league form. We had a new manager in Nigel Clough who had a decent, if not spectacular CV, who totally turned around certain players from the train wreck that was the club under David Weir. The change of ownership also brought with it promise of future funds and better communication from the club, be it directors liaising directly with fans in a professional manner on social media or the management team seemingly being much more open and honest.
Allayed to all this was the unbelievable cup run, which culminated in many people's highlight of this topsy turvy season, the semi-final date at Wembley. What a day it was. Bathed in a glorious mix of sunshine and joviality beforehand, the emotion when we finally scored first at Wembley was tangible and, even though we lost, we witnessed one of the best (if not the best) high scoring games at the New Wembley.
This got me thinking that in my years supporting the Blades (my first match was in 1985) I have seen some absolutely fantastic, high scoring games that swung one way and then the other. Games that if I saw them in the Sunday paper's result section involving other clubs I'd think, 'I wish I'd seen that game!' Obviously we have had more than our fair share over the years, some games (like the Semi Final) where we did not get a positive result while others (like the 7-3 win over Wednesday) were before my time.
However for me, these are my top five high scoring games I have seen involving us:

5. Notts County 3 – 4 Sheffield United, FA Cup 3rd Round (replay), 1999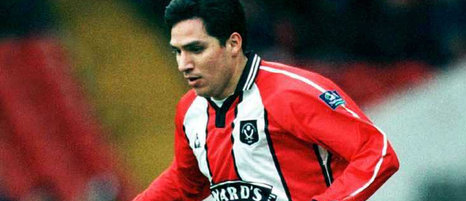 There were two great comebacks in the second half of the 1998/99 season under Steve Bruce. One was at Prenton Park, where we scored three late goals to beat Tranmere Rovers 3–2 – having thrown Trianos Dellas on up front – and then this F.A. Cup 3rd round replay. I ranked the Notts County game higher due to the quick transformation from despondency to joy at the end of the game, followed by nerves kicking in as we hung on with ten men in extra time.
The game was played on the Saturday of the fourth round following a 1-1 draw in the first encounter. The fact that it was on the Saturday, along with it being fairly local and cheap, meant we took a fantastic following. I remember us filling the entire stand behind the goal which led to a cracking cup tie atmosphere, with the knowledge that the winners would have an eminently winnable home tie against Cardiff later that week. The home side, who were struggling in the third tier, took an unexpected lead before Borbokis scored just before half time. I then remember us just not coming out of the traps at the start of the second half; County swept into the lead and then seemingly killed off the tie when bagging their third with about 10 minutes left. This seemed to give us the kick we needed and we finally decided to turn up, Holdsworth almost immediately pulling one back before wave after wave of United attack saw the away end go wild when Marcelo scored in injury time. Marcelo bagged another just into extra time and it seemed we would go on to score more. That all changed when Wayne Quinn got an unbelievable second yellow, the ref interpreting him kicking the ball against the advertising boards to pick it up as time wasting and duly sending him off. Thus we then had to hang onto our lead and I remember them missing a golden chance which would have taken it to penalties. Alas we held on and dodged the banana skin.
This comeback led to the cup run which eventually ended in controversy with the 'replayed game' at Arsenal.
4. Sheffield United 5 – 3 Cardiff, Nationwide League Division One, 2003.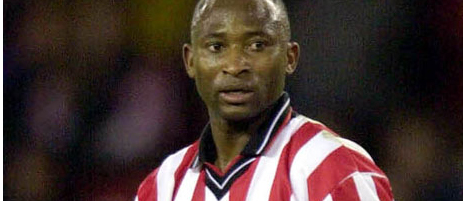 A truly bizarre game in that all of the 8 goals came in the second half! It was also notable for a winger scoring a hat trick, 2 penalties and a clutch of wonderful goals.
After a pretty dour first half from what I can remember, newly promoted Cardiff took a deserved lead just after the break. Earnshaw got the goal but then came two wonderful moments for United, first Tonge scored what was to become a trademark free kick and then Ndlovu seemed to totally fool their 'keeper. When running clean through he decided to take the shot on early from about 35 yards, it bounced in front of the Cardiff goalie and up into the net. Then followed more twists, they equalised before scoring a quality free kick of their own. Almost immediately we got a penalty, Nuddy stepping up to calmly bring the scores level in front of the Kop. Then, in a game of great goals, came the best of the lot – Super Jack Lester controlled the ball on his chest just inside the area, before smashing a volley into the top of the net to send the Kop wild – what a moment. We barely had time to catch our breath before we got another penalty, Nuddy once again stepping up to complete his hat trick and put the gloss on a truly spectacular game. Though the season ultimately ended in disappointment – United just missing out on the play offs – we really had some wonderful times watching The Blades in that era (more of that later).
3. Sheffield United 3 – 2 Nottingham Forest, Barclays League Division One, 1990.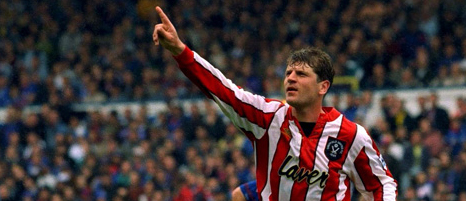 The start of the original (and best) great escape.
It is often said in football circles, that the team at the bottom of the top division at Christmas always goes down. Well by the morning of the 22nd December 1990, Sheffield United were not only bottom, they were positively cut adrift. We had amassed only four points all season and we were already 11 points adrift of safety going into the Forest game. While we had imagined the top flight would be tough, no one could have foreseen the ignominy of being 16 games in without a single win against our name. As an absolutely football crazy 11 year old (girls and alcohol had yet to make an appearance in my life, thus United were about all I lived for) I would often sit staring at the leagues on the back page of the Green 'Un, not quite wanting to comprehend where the BOLD name of my beloved Sheffield United lay, bottom of the league and with little hope.
Going into that match it almost felt like last chance saloon, we had almost impossible away games coming up at the mighty Arsenal, following on from boxing day at Luton on their fortress of a plastic pitch with no away following. We really needed a win here if we were to have even a smidgen of a chance of survival. Thus from the off, the game had an almost cup tie atmosphere about it and we duly went ahead through Jock Bryson. It wasn't long (almost from the kick off) that the demons returned though and Forest almost inevitably equalised before going two one in front. There was something a bit magic in the air though on that crisp, slightly foggy December afternoon and the main architect of that was Carl Bradshaw. He would go on to be a thorn in Forest and Stuart Pearce's side on many occasions in that era and I remember him having a barnstorming second half that day. First Bryson again equalised with a bullet header before he hit both posts with the same shot but it still didn't go in. Then cue Deano with the header, the kop went ballistic and we were ahead.
Then followed what, to this day, is the longest injury time I have ever known at a football game (or it certainly seemed like it). In these days before 4th officials and their boards we had absolutely no idea how long was left and it seemed the Kop was whistling en masse from about half past four. Finally the ref blew his whistle and the outpouring of relief resulted in a pitch invasion. I remember standing as I always did on the barrier above the middle walkway on the Kop (for a wee lad it was the best view going), just staring at that iconic image that was the scoreboard showing that we had won a first division game, a barnstorming, high scoring thrill ride of a game at that.
We of course went on to win at Luton and, despite defeat at Arsenal we went on a Glyn Hodges inspired 7 game winning run that ultimately resulted in a comfortable 13th place finish, the greatest escape ever. Thank the lord for Grand National sweepstakes.
2. Sheffield United 4 – 3 Nottingham Forest, Nationwide Division One Play Off Semi Final, Second Leg, 2003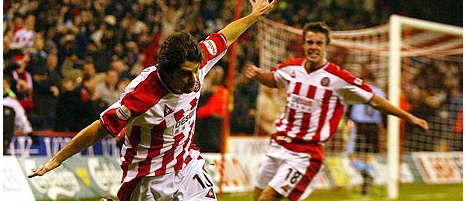 Probably the greatest game of the Warnock era, arguably the greatest game at Bramall Lane due to its enormity, but for personal reasons it only (just) makes number two on my list.
This was the triple assault season; we had already had the joyous occasions against Leeds (twice), Wednesday, Liverpool, Palace and another fantastic 4 – 3 against Ipswich, it truly was the best season I have ever had watching United. While ultimately it ended in disappointment, this night will live long in the memory and will probably be number one for a lot of fans of my vintage.
Having drawn the opening leg 1-1 at The City Ground thanks to a Michael Brown penalty, we went into the game as slight favourites, although this was against a fantastic Forest side that had ripped us to shreds earlier that season so it was apparent the task would not be easy. That appeared to be the case as after a decent start, first David Johnson then Andy Reid put Forest into a comfortable 2-0 lead around the hour mark. Our dreams of Cardiff and promotion seemed in tatters at that very second but in a never say die spirit that personified that team, we almost instantly hit back with a deflected Brown free kick. Soon after, Steve Kabba displayed a wonderful piece of skill to flick the ball Gazza like over Des Walker before volleying into the top corner. I was sitting at the back of John Street for this one and I have never seen the all seated Kop sway like it did when that went in, the ground was absolutely buzzing and the Forest fans were utterly dejected.
We were totally breathless at this point, and the game seemed to go into a bit of a lull and is still is a bit of a blur to me as it entered extra time. I remember Forest really going for it by chucking most of their unbelievable striking options on there, they had Huckerby, Johnson, Harewood, Reid and Lester on the pitch at different times that night and they were always a threat going forward. Lester with some trademark jinking runs caused us problems on the break but Forest were always fallible at the back.
Then came Peschi:
A twist, a turn, a dipped shoulder, the 'keeper dummied as the ball slid into the goal, shirt off, "oh my god, oh my god."
The little Canadian will always be a cult hero for the fans at Bramall Lane and that moment cemented him into our history for ever. Then, as if the night could not get any better, Des Walker proved that not only could you beat him, but he also loves to score an own goal in a big game. 4-2 and you thought the game was over but there was yet more drama, a Rob Page own goal made it 4-3 and there was still time for Forest to have a chance to force penalties, Paddy Kenny bravely holding onto an effort on his line.
That was that and we were going to Cardiff, this incredible season had delivered a night to surpass all others, a night that left me more physically, emotionally and mentally drained than I have ever been while watching United. We all know how Cardiff ended, that season deserved so much more, but that night against Forest will never be forgotten, a privilege to have been there.
1. Sheffield United 5 – 4 Brighton, Barclays League Division 2, 1989.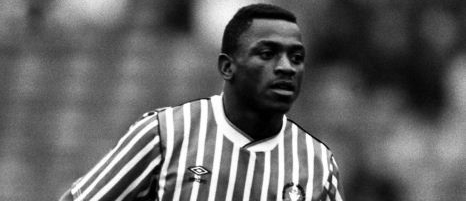 And so, pop pickers, we move onto my number one high scoring game involving The Blades.
It was early in the season after we had been promoted back to the second division under Bassett. We had started off like a train and were riding higher than we ever imagined we would be. I had been going to the odd game for a few seasons but as I was approaching 11 years old this was the season that I first truly 'caught the bug' and this game is a prime reason for that.
It was also memorable for me in that I went with my older brother for the first time, as my father was playing cricket and I really wanted to go. This was in the days of standing on the Kop and while the post Hillsborough world was slowly taking shape, we still had fences at the front which meant for a young lad like me, it was like watching the game through a rabbit hutch. Therefore, if it wasn't raining, we would stand to the left of the Kop by the Pylon where it was uncovered but you got a decent view when kicking towards Bramall Lane. It was here where we saw us race into a 3 – 0 lead before Brighton pulled one back before half time.
We then moved down to the front of the Kop for the second half, expecting us to see out a comfortable victory. I can't vividly remember all the goals, but I do remember that every time Brighton attacked in that second half it seemed they were going to score, and they very often did! Suddenly from cruising we were 4-3 down and wondering if our early season form bubble had just been burst. Then with about 10 minutes to go and us running out of ideas, we got a penalty. Jock Bryson struck it into the corner and we had parity, but still felt a draw would be a disappointment having being 3 up. Then in injury time came the reason why, if you ask any Blades fan aged 35 and above what they remember about John Francis, they will definitely answer "diving header". It was right in front of us in the Kop and it was the first time that I went absolutely crazy, a cross into the box to be met by a flying Francis which not only gave us a smash and grab win, but moved us to the top of the second division for the first time in years. It was an absolutely fantastic game and because it was the first time while watching United that I felt true disappointment (something I would have to get used to) followed by the sheer joy/relief of victory. I can honestly say this was the match that ignited the fire inside of me, the passion of being a Blade that never leaves. What a wonderful game, what a wonderful moment, definitely my number one.
The bubble never burst all season after that and we went on to secure promotion in another high scoring thriller at Leicester, which would surely have been my number one but I wasn't there (just too young to go with my mates!) though I do remember listening to the goals coming through via Bob Jackson on Radio Sheffield. It just shows how many great games we have been involved in, despite being serial underachievers for a club our 'size', we have had some fabulous moments, made all the more special by virtue of being sandwiched in between all the dross.
I love being a Blade. I wouldn't want it any other way.
Paul Kemp