On the eve of the first league home game of the 2016/2017 season, we take a quick look at the previous visits of Rochdale to the Lane.
The two sides have only played each other eight times in total, half of those matches being contested at Bramall Lane. The Blades have a good record against The Dale having been victorious in all but one of the meetings of the clubs.
Tuesday 4th May 1982 – Sheffield United 3 – 1 Rochdale – Bramall Lane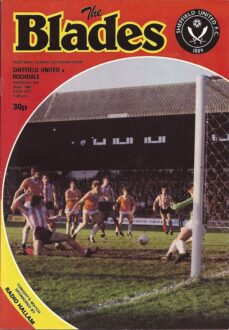 Towards the end of the Division Four season, the eased to victory over The Dale with a goal from Hatton and a brace from Keith Edwards in front of a crowd of 21,140.
Sheffield United Lineup: Waugh, Richardson, Garner, Matthews, Macphail, Kenworthy, Morris, Trusson, Edwards, Hatton, King.
Saturday 10th December 2011 – Sheffield United  3 – 0 Rochdale – Bramall Lane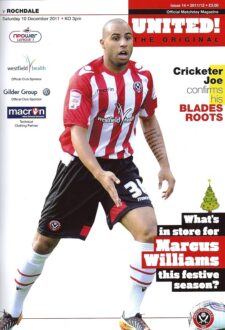 The Blades secured all three points with a 3-0 win over The Dale, with two goals from Ched Evans and one from Richard Cresswell. An in form Evans grabbed the opener from a Jean-Francois ball into the area, shortly before the Rochdale keeper Lucas was stretchered off after receiving a blow to the head. It was to be another Jean-Francois assist for the second goal, with Richard Cresswell this time being the man to steer the ball home at the front post.
Evans completed the scoring and put the game to bed with a 25-yard free kick making it eight goals in five games for the striker.
Sheffield United Lineup: Simonsen, Lowton, Jean-Francois, Collins, Maguire, Doyle, Williamson, McDonald (Montgomery 88), Quinn (Flynn 82), Evans, Cresswell (Porter 83).
Saturday 13th September 2014 – Sheffield United  1 – 0 Rochdale – Bramall Lane
The Blades came out narrowly on top in order to stretch an unbeaten run to five games.
Jamal Campbell-Ryce was the man to secure the three points, with a deflected cross/shot a few minutes before the final whistle, seeing his effort deflected into the back of the net by Stephen Dawson.
Sheffield United Lineup: Howard, Alcock, Collins, Davies (McNulty 63), McGahey, McEveley, Basham (Wallace J 74), Doyle, Murphy (Flynn 65), Baxter, Campbell-Ryce.
Attendance: 19,122
S24SU Forum Man of the Match: Jamal Campbell-Ryce
Saturday 10th October 2015 – Sheffield United  3 – 2 Rochdale – Bramall Lane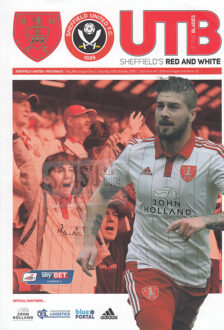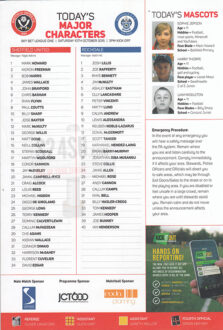 In another closely fought game, Neill Collins secured the win from a corner.
Che Adams was the other name on the scoresheet, unlucky not to complete a hat trick in the final minute of the game, seeing Dale keeper Lillis saving his powerful shot after a charge forward from half way.
Sheffield United Lineup: Howard, Freeman, Collins, McEveley (McGahey 45), Basham, Coutts (Reed 73), Scougall (Wallace K 45), Sharp, Baxter, Done, Adams.
Attendance: 19,039
S24SU Forum Man of the Match: Billy Sharp