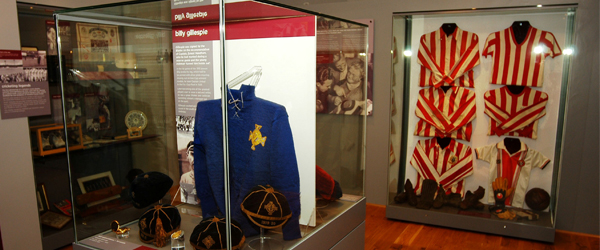 Sheffield United are to start a "Memory Room" in the Legends of the Lane museum at the Lane.
Club Historian and Supporters Liaison Officer John Garrett will be holding the first "Fables and Folklore" evening in Legends of the Lane next week, following on from the success of the popular feature in the official match day programme.
These evenings will take a unique look at the history of Sheffield Football, the Blades and Bramall Lane through the eyes of John Garrett, the players who helped create the history and the shirts, caps, medals and trophies that they won.
Legends is one of the only dedicated museum facilities in the English game and its collection is second to none. The aim is to form a historical society, with fans getting together on a regular basis to share stories and memories of our "Lives at the Lane" and there will be also a chance to see vintage footage of the Blades dating from the early 20's onwards. It is intended that guest speakers from all sides of Lane life will attend to tell their tales – a true "memory room".
"Fables and Folkelore" will take place in Legends of the Lane at 7.30pm on the evening of Wednesday 12th December with bar facilities open should you fancy a beer or brew, or something stronger to warm you through.
Things will kick off with a chance to see vintage and rare footage of the Club from the 1920's onwards talked through by JG – that will lead nicely into a look at some of our fantastic treasures and the stories that go with them. The evening should end no later than 9.30pm.
Tickets are available from the Sheffield United Ticket Office and are priced at £5 for adults and £3 for concessions.
For further information please contact John Garrett via john.garrett@sufc.co.uk.
Comments
0 comments