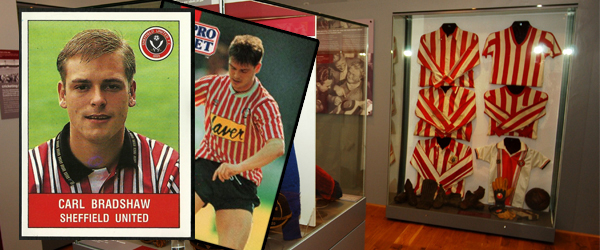 Legends of the Lane are delighted to announce the next in the series: An evening with Carl Bradshaw.
"Bradders" is one of the biggest characters to pull on the famous shirt – a Sheffield lad through and through Carl has some fantastic and very funny stories to tell!
Not many begin their career across the City and go on to make cult status with the Lane Kop, but Carl is certainly one who made that transition seamlessly – a player definitely and rightly regarded as one of us.
With 148 starts in the red and white stripes (plus 27 as sub) his career here spanned the Bassett promotion team and the magic that was Leicester on the final day of the season, the formation of the Premier League (and a leading role in the Sky advert promoting it) and the agony of watching a semi final game that he should have run, from the stands at Wembley an incredible 20 years ago.
Carl still holds the record number of appearances for the Club in the Premier League and is, of course, one of our former Captains – possibly one of the proudest in recent times to take the armband.
"An Evening with Carl Bradshaw" will take place in Legends of the Lane on the evening of the 7th March 2013.

Doors open at 7.00pm and you can take the opportunity to have a picture taken with our special guest and the FA Cup before our signature home made steak pie, peas and gravy are served at 7.30pm
The Q&A session, led by Club Historian John Garrett will start at around 8.30pm and the audience will get a chance to put their questions to the man himself over the course of the evening.
The licensed bar will be open throughout the evening with table service during the Q&A.
The price is just £16 per head and the price includes a complimentary pint of house beer/ lager /glass of wine or standard soft drink on arrival!
To book simply contact the Ticket Office through the usual channels or contact JG on john.garrett@sufc.co.uk for further information.
As this is a Legends event there are a strictly limited number of tickets available – please book early to avoid disappointment!!