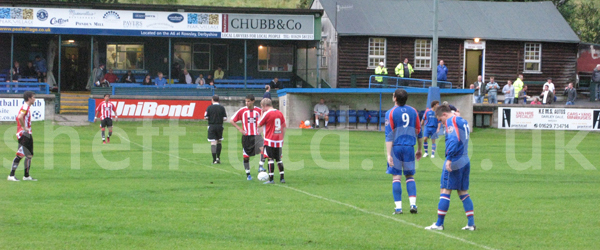 A regular trip whilst under the stewardship of Neil Warnock, it's been five years since we last visited Causeway Lane. The Blades will send an XI on Wednesday which, if following previous years selections, is most likely to be a mixture of first teamers and academy players.
The Gladiators currently play in the Evo-Stick Northern Premier League and have a couple of players who spent part of their early career at Sheffield United in Lee Featherstone and Chris Bettney.
About the Ground
Causeway Lane is close to the centre of Matlock opposite Hall Leys Park and features a cricket oval towards the eastern end of the ground (which is where a high percentage of shots usually end up).
The ground holds just under 600 seats, most of which are in two adjacent stands which are fitted together, though not quite flush! These are set back a good few yards from the pitch with many fans choosing to stand against the wall pitchside instead. A small social club usually sells beer and is close to the dug outs.
There is usually street parking on the road outside the ground, though unless you arrive early, this gets busy and soon full. More parking is available in the car parks further into Matlock.
[button url=https://www.google.co.uk/maps/ms?msa=0&msid=218364414982782251260.0004c2b0c1360ef69614f color=red size=normal target=newtab]Route Map[/button]
As always, we'll be updating from the match on via Twitter, so if you aren't already, then follow us via: http://twitter.com/s24su for coverage.
Official Website: http://www.matlocktownfc.co.uk
Fans Forums: http://www.phpbbserver.com/matlocktownfc/
Contact Details:
Matlock Town FC
Causeway Lane
Matlock
Derbyshire
DE4 3AR
Phone: 01629 55362
Email: info@matlocktownfc.co.uk