This weekend will see a Fan-Zone area set up in the main Cherry Street car park at Bramall Lane before the match against Wolverhampton Wanderers on 22 March – the day when the Club officially celebrates its 125th with a programme of pre-match events.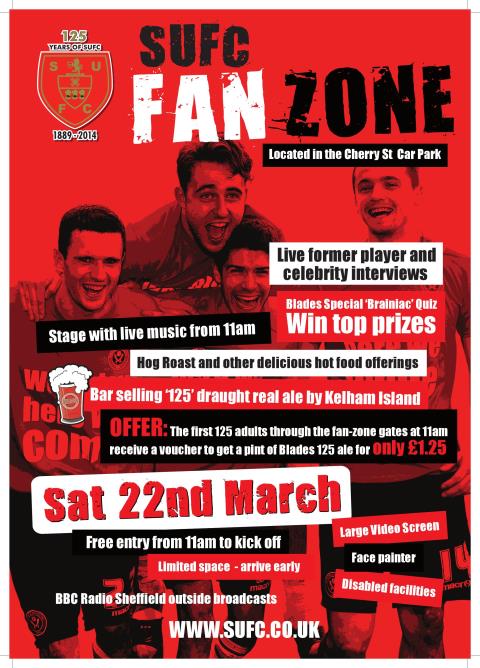 Set to get under way at 11am, the first 125 (adult) fans through the gates of the Fan-Zone will receive a voucher to buy a pint of the special Blades 125 Ale for £1.25 and a free beer pump clip – one of a limited edition of 125.
The ale has been brewed by Kelham Island Brewery and is described as "a proper, traditional real ale, pale coloured, firm bodied, smooth and quite light". In the longer term, the beer will be available in the club shop together with a commemorative beer mug.
For the non-beer drinkers and kids, there's still plenty to do – with live music, former player and celebrity interviews, hot food and the opportunity to win prizes in a Blades Special 'Brainiac' Quiz.
United are also asking supporters to fill the 'Blades-only' Fan-Zone with their various club flags ahead of the event to give it a vibrant, colourful setting. Blades supporter John Cain has agreed to coordinate this effort and he can be contacted via john.cain3@sky.com.
Comments
0 comments