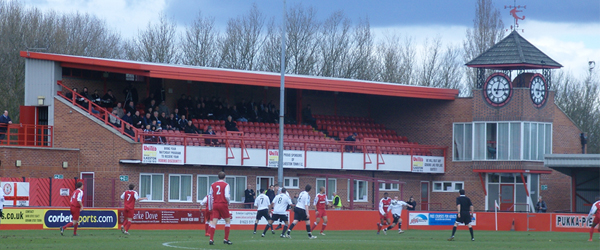 To kick off their pre-season preparations, the Blades will travel just shy of 40 miles to the New Manor Ground, home of Ilkeston FC.
Newly promoted to the Evo-Stick Premier League, amongst their ranks is Laurie Wilson (son of Danny) who recently agreed to re-join the Robins following spells with Alfreton and Harrogate Town. Continuing the family theme is Joe Maguire, brother of Harry, who did spend 4 years with the Blades but made his breakthrough with Scunthorpe United.
About the Ground
The New Manor Ground opened in August 1992, when Ilkeston Town FC moved from their home for 99 years (not surprisingly called The Manor Ground) – to take up residence in a purpose-built stadium.
It is situated on the north-east edge of Ilkeston, around a mile from the town centre and is bordered by the River Erewash to the east and Erewash Canal to the south.
The ground has a capacity of 3,029, including covered accommodation for 2,000. There are 550 seats – 270 in the main stand on the Awsworth Road side, straddling the halfway line, and 280 in the Clocktower Stand.
Segregation is rarely enforced with all supporters entering the ground via turnstiles in the club car park. If segregation is necessary, visiting supporters enter via the main turnstiles in the car park to occupy southern areas of the ground, and home fans via turnstiles to the rear of the clubhouse.
The record attendance at the New Manor Ground was achieved in 1999 for the visit Rushden & Diamonds which attracted 2,538.
Getting there
A fairly easy journey by car this one, with the ground just a few miles from the M1 with a total distance of around 40 miles from Bramall Lane.
In terms of parking, there is a small car park at the ground and plenty of street parking nearby.
[button url=https://maps.google.co.uk/maps/ms?msa=0&msid=218364414982782251260.0004c2a9d16cc61fe4d03 color=red size=normal target=newtab]Route Map[/button]
Getting to Ilkeston by Train is a bit more of an effort, given than Ilkeston is without a railway station in operation (a local newspaper recently took a petition to Downing Street). The nearest operating station is Langley Mill which is around 5 miles from the ground.
Official Website: http://www.ilkestonfc.co.uk
Fans Forums: http://s10.zetaboards.com/IFC/index/ & http://members4.boardhost.com/WhiteBallForum/
Contact Details:
New Manor Ground
Awsworth Road
Ilkeston
Derbyshire
DE7 8JF
Phone: 0115 944 4428
Email: info@ilkestonfc.co.uk