Joined

Aug 7, 2009
Messages

6,002
Reaction score

12,617
Location
Paul Heckingbottom didn't change a lot after taking over from Chris Wilder. He tried the odd change of player, but it was more or less Chris Wilder's tactics that were kept.
This was the Leeds line up: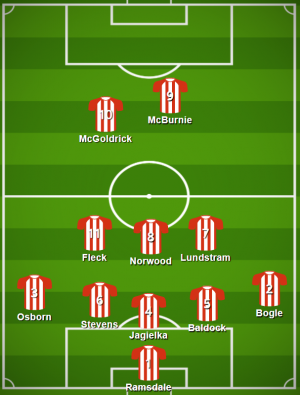 Our biggest problem this season has been covering space in midfield. Whoever we've put there just haven't been able to do it.
To simplify - our back 3 became back 5. Our 2 strikers were easily passed through. Leaving the 3 midfielders struggling to get close enough to their opponents.
At Wolves we made a tweak. On paper it may look pretty much the same - from 5-3-2 to 5-2-2-1.
We did lose to Wolves. But for me it was the first real attempt at doing something different. And we made Wolves struggle. They couldn't get their passing going and looked like having an off day. Remember that from last season?
Having a front three, including the extremely hard working Osborn, actually gave us a chance to press high up the pitch in a manner we hadn't seen all season. When we lost the ball in their half, we were in their faces and preventing them from comfortably building attacks. In later games Jebbison came in and McGoldrick was moved to a role behind the central striker, but the effect of the tweak was similar. We'd gained a new layer of pressure, defending from the front with the front three.
It meant both Norwood + Fleck and the defenders could play more aggressively, positioning themselves to make interceptions and challenges. If the front three didn't win the ball back they often made the forward pass a bit hasty, and so easier for the players behind to challenge. It was so refreshing to see Norwood and Fleck being close to themselves again. Great to see the wing backs doing more than just minding whoever the oppostion manager had told to hug the touchline high up.
After the positives at Wolves we beat Brighton with the same approach.
Then we had a set back first half vs Spurs. They were well up for it on the day and managed to get past our forward three, meaning the likes of Alli, Son, Bale and Kane caused havoc in front of our back line. We struggled to keep them out. We made two second half changes, maybe thinking that bringing Berge back would mean the old 3-5-2 would make us fabulous once again. It didn't. We conceded three more goals in the second half.
We kept the 3-5-2 for the next game vs Palace. Poor Berge returned to the starting line up, but was again forced to play in the same formation that had failed so spectacularly all season. A new defeat, and a poor performance, followed.
So we returned to the 5-2-2-1, or 3-4-3 at Everton. With Jebbison giving us something different up front we gave a thoroughly professional performance and won. We'd learned our lesson and this would be the formation for the rest of the season.
We struggled more against Newcastle, but this was a Newcastle side who'd also found good form. A sidenote, I think the management should have made more substitutions second half, as Newcastle looked to be tiring.
Of course we beat Burnley today, again with the tweaked formation. We were solid.
So, the formational change gave us 3 wins from 6 matches. 3 clean sheets.
Among the matches we didn't win was:
Wolves, which was a positive performance, maybe one we would have won if we had tried to change things earlier?
Spurs, where the formation was only played 1st half (though I think we'd lost anyway).
Newcastle, who were in great form.
2 were 0-1 defeats.
I don't think this proves that we've found some superior formation. But I do think it suggests that it is worth trying something different when things aren't working. What Heckingbottom turned to isn't what I suggested - in fact I was worried that this actual tweak would make things worse. I think there were other things to try, maybe that could have had an effect too. But I applaud that he had the guts to make some sort of change.
That's what is so sad about Chris Wilder's last season. To just decide that we weren't going to try a different approach, and even ridicule alternative suggestions is so out of character for a man who got so much right the previous four seasons.